While designing any desk/console, it is essential to consider human factors and minimize occupational hazards of the Operator or User. TAN SWA offers such ergonomically designed customized Control Desks, PC Consoles & Control Room Furniture according to customer requirement.
Our Range includes:
PC & Server Consoles
Workstation Consoles
Operator Desks
SCADA/ HMI / Monitor Consoles
Control Desk
Joystick Operation Desk
Swivelling Monitor Console
Control Room Furniture
Pushbutton Stations & Control Post


TAN SWA has manufactured more than 700 varieties of desks in last 25 years. Being located in Navi Mumbai, our supplied Panels are working not only in India but also in various countries like Dubai, Qatar, Saudi Arabia KSA, Oman, Kuwait and also in Austria, Germany, USA, Australia, Sri Lanka, Singapore, Malaysia, Thailand, Indonesia, India, Nigeria, China, South Korea, Bangladesh, Zambia etc.
Typical Order Cycle for Control Desks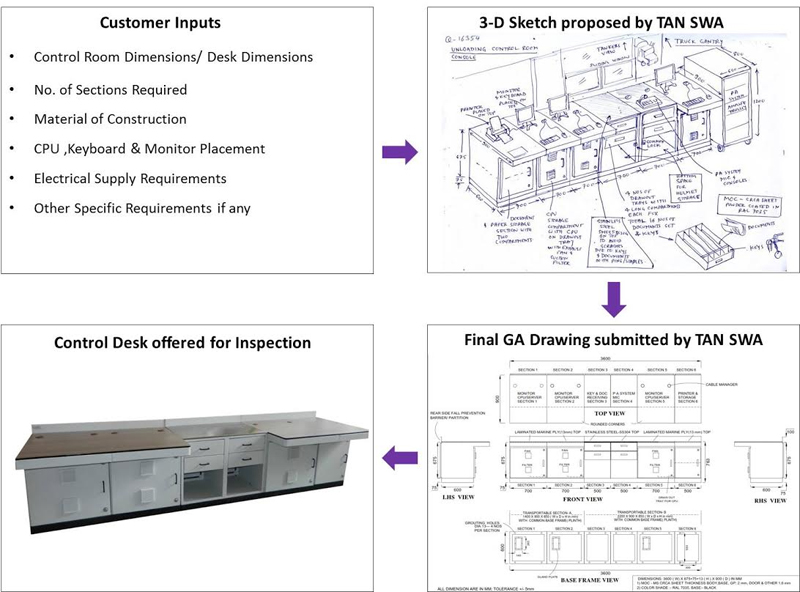 We offer customization in every aspect of the desks including Shape, Size, MOC etc.
Here are few options from which you can pick and choose as per your requirement.

Options

MOC

CRCA Powder Coated
Stainless Steel SS-304 / SS-316

MOC of Table Top

Powder Coated
Laminated Marie Ply/ MDF Board
Stainless Steel SS-304 / SS-316

CPU

On Drawout Type Tray
On Fixed Tray

Monitor

Enclosed Cover Type
Open Table Placement
Cantilever Type Extension

Base

C Section Plinth
Adjustable Height Screw Mount
Direct Mounted Cabinet
With Castor Wheels
With Anti-Vibration Pad